Kaimipono.net The online home of professor Kaimipono David Wenger
HOME |SCHOLARSHIP |CONFERENCES |PRESENTATIONS |ONLINE WRITING |RESEARCH & EXPERTISE | MORMON STUDIES |MEDIA |CV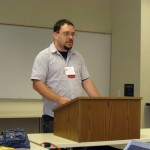 Welcome to kaimipono.net, the online home of Kaimipono David Wenger (Kaimi). I am assistant professor of law at Thomas Jefferson School of Law in San Diego, California, where I teach Wills & Trusts, Business Associations, and Critical Race Theory.
I write on a variety of issues relating to civil rights. My articles have been published in the Wisconsin Law Review, American University Law Review, University of San Francisco Law Review, Connecticut Law Review CONNtemplations, and Thomas Jefferson Law Review. Further detail about my research can be found here, while links to my publications can be found here on this site, and also at my SSRN page.
I received my B.A. from Arizona State University and my J.D. from Columbia Law School, where I was a James Kent Scholar, a Harlan Fiske Stone scholar, and an articles editor for the Columbia Law Review. I clerked for judge Jack B. Weinstein in the Eastern District of New York, and practiced law in the New York office of Cravath, Swaine & Moore LLP.
I write online in a variety of places, including the law blog Concurring Opinions and the Mormon-themed blog Times and Seasons.
Welcome to my website. Please take a look around; and if you have any questions, please feel free to e-mail me. Please note that I do not give legal advice.
QUICKLINKS
My online bio at TJSL
My SSRN Page
Contact Me